அத்தியாயம் ௰௧ - ஸ்லோகம் ௫௰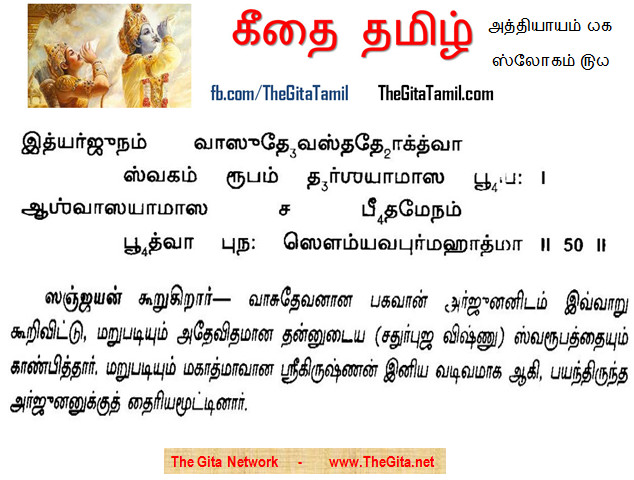 Find the same shloka below in English and Hindi.
TheGita – Chapter 11 – Shloka 50
Shloka 50
Sanjaya further recounted:
Having said this to Arjuna, the great Lord Vasudeva (Krishna) revealed to Arjuna, His human form once more. Thus the Lord of all beings gave peace to Arjuna's fear and comforted a terrified Arjuna.
संजय बोले ——-वासुदेव भगवान् ने अर्जुन के प्रति इस प्रकार कहकर फिर वैसे ही अपने चतुर्भुज रूप को दिखलाया और फिर महात्मा श्रीकृष्ण ने सौम्य मूर्ति होकर इस भयभीत अर्जुन को धीरज दिया ।। ५० ।।
The Gita in Sanskrit, Hindi, Gujarati, Marathi, Nepali and English – The Gita.net